Announcements
Subscribe to posts
It is like a man about to go abroad who summoned his servants and entrusted his property to them. 15 To one he gave five talents, to another two, to a third, one, each in proportion to his ability. Then he set out on his journey. 16 The man who had received the five talents promptly went and traded with them and made five more. 17 The man who had received two made two more in the same way. 18 But the man who had received one went off and dug a hole in the ground and hid his master's money. 19 Now a long time afterwards, the master of those servants came back and went through his accounts with them. 20 The man who had received the five talents came forward bringing five more. "Sir," he said, "you entrusted me with five talents; here are five more that I have made." 21 His master said to him, "Well done, good and trustworthy servant; you have shown you are trustworthy in small things; I will trust you with greater; come and join in your master's happiness." 22 Next the man with the two talents came forward. "Sir," he said, "you entrusted me with two talents; here are two more that I have made." 23 His master said to him, "Well done, good and trustworthy servant; you have shown you are trustworthy in small things; I will trust you with greater; come and join in your master's happiness." 24 Last came forward the man who had the single talent. "Sir," said he, "I had heard you were a hard man, reaping where you had not sown and gathering where you had not scattered; 25 so I was afraid, and I went off and hid your talent in the ground. Here it is; it was yours, you have it back." 26 But his master answered him, "You wicked and lazy servant! So you knew that I reap where I have not sown and gather where I have not scattered? 27 Well then, you should have deposited my money in the bank, and on my return I would have got my money back with interest. 28 So now, take the talent from him and give it to the man who has the ten talents. 29 For to everyone who has will be given more, and he will have more than enough; but anyone who has not, will be deprived even of what he has. 30 As for this good-for-nothing servant, throw him into the darkness outside, where there will be weeping and grinding of teeth."
3. A moment of prayerful silence
Matthew 22:1-14
Jesus began to speak to them in parables once again. 'The kingdom of Heaven may be compared to a king who gave a feast for his son's wedding. He sent his servants to call those who had been invited, but they would not come. Next he sent some more servants with the words, "Tell those who have been invited: Look, my banquet is all prepared, my oxen and fattened cattle have been slaughtered, everything is ready. Come to the wedding." But they were not interested: one went off to his farm, another to his business, and the rest seized his servants, maltreated them and killed them. The king was furious. He dispatched his troops, destroyed those murderers and burnt their town. Then he said to his servants, "The wedding is ready; but as those who were invited proved to be unworthy, go to the main crossroads and invite everyone you can find to come to the wedding." So these servants went out onto the roads and collected together everyone they could find, bad and good alike; and the wedding hall was filled with guests. When the king came in to look at the guests he noticed one man who was not wearing a wedding garment, and said to him, "How did you get in here, my friend, without a wedding garment?" And the man was silent. Then the king said to the attendants, "Bind him hand and foot and throw him into the darkness outside, where there will be weeping and grinding of teeth." For many are invited but not all are chosen.'
3. A moment of prayerful silence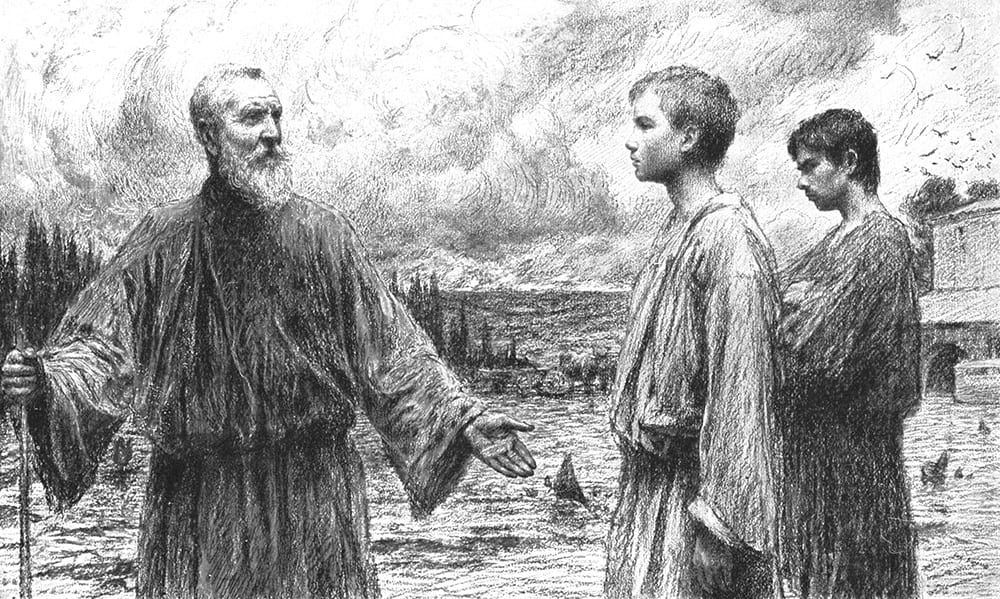 The parable of the two sons 
Disobedient obedience and obedient disobedience 
Matthew 21: 28-32
28-31a: 'What is your opinion? A man had two sons. He went and said to the first, "My boy, go and work in the vineyard today." He answered, "I will not go," but afterwards thought better of it and went. The man then went and said the same thing to the second who answered, "Certainly, sir," but did not go. Which of the two did the father's will?' They said, 'The first.' 
31b-32: Jesus said to them, 'In truth I tell you, tax collectors and prostitutes are making their way into the kingdom of God before you. For John came to you, showing the way of uprightness, but you did not believe him, and yet the tax collectors and prostitutes did. Even after seeing that, you refused to think better of it and believe in him.
The Text: Matthew 16, 13-20
13 When Jesus came to the region of Caesarea Philippi he put this question to his disciples, 'Who do people say the Son of man is?' 14 And they said, 'Some say John the Baptist, some Elijah, and others Jeremiah or one of the prophets.' 15 'But you,' he said, 'who do you say I am?' 16 Then Simon Peter spoke up and said, 'You are the Christ, the Son of the living God.' 17 Jesus replied, 'Simon son of Jonah, you are a blessed man! Because it was no human agency that revealed this to you but my Father in heaven. 18 So I now say to you: You are Peter and on this rock I will build my community. And the gates of the underworld can never overpower it. 19 I will give you the keys of the kingdom of Heaven: whatever you bind on earth will be bound in heaven; whatever you loose on earth will be loosed in heaven.' 20 Then he gave the disciples strict orders not to say to anyone that he was the Christ.
3. A moment of prayerful silence
Gospel Reading - John 1,45-51
The next day, Philip found Nathanael and said to him, 'We have found him of whom Moses in the Law and the prophets wrote, Jesus son of Joseph, from Nazareth.' Nathanael said to him, 'From Nazareth? Can anything good come from that place?' Philip replied, 'Come and see.'
When Jesus saw Nathanael coming he said of him, 'There, truly, is an Israelite in whom there is no deception.' Nathanael asked, 'How do you know me?' Jesus replied, 'Before Philip came to call you, I saw you under the fig tree.' Nathanael answered, 'Rabbi, you are the Son of God, you are the king of Israel.' Jesus replied, 'You believe that just because I said: I saw you under the fig tree. You are going to see greater things than that.'
And then he added, 'In all truth I tell you, you will see heaven open and the angels of God ascending and descending over the Son of man.'
3) Reflection
In a few hours the National Dominican Pilgrimage leaves for Fatima with nearly 90 pilgrims including Friars, Lay Dominicans and faithful from our Dominican Churches throughout the country. Will remember you all in our prayers as we bring our needs and petitions before the Immaculate Queen of the Rosary. Thursday 24th August.
Sunday Gospel Reading
Jesus left that place and withdrew to the region of Tyre and Sidon. And suddenly out came a Canaanite woman from that district and started shouting, 'Lord, Son of David, take pity on me. My daughter is tormented by a devil.' 
23-24: But he said not a word in answer to her. And his disciples went and pleaded with him, saying, 'Give her what she wants, because she keeps shouting after us.' He said in reply, 'I was sent only to the lost sheep of the House of Israel.' 
25-26: But the woman had come up and was bowing low before him. 'Lord,' she said, 'help me.' He replied, 'It is not fair to take the children's food and throw it to little dogs.' 
27-28: She retorted, 'Ah yes, Lord; but even little dogs eat the scraps that fall from their masters' table.' Then Jesus answered her, 'Woman, you have great faith. Let your desire be granted.' And from that moment her daughter was well again.
Reading of the Gospel:
 Luke 1,39-56
Mary set out at that time and went as quickly as she could into the hill country to a town in Judah. She went into Zechariah's house and greeted Elizabeth. Now it happened that as soon as Elizabeth heard Mary's greeting, the child leapt in her womb and Elizabeth was filled with the Holy Spirit. She gave a loud cry and said, 'Of all women you are the most blessed, and blessed is the fruit of your womb. Why should I be honoured with a visit from the mother of my Lord? Look, the moment your greeting reached my ears, the child in my womb leapt for joy. Yes, blessed is she who believed that the promise made her by the Lord would be fulfilled.'
And Mary said: My soul proclaims the greatness of the Lord
and my spirit rejoices in God my Saviour;
because he has looked upon the humiliation of his servant. Yes, from now onwards all generations will call me blessed,
for the Almighty has done great things for me. Holy is his name,
and his faithful love extends age after age to those who fear him.
He has used the power of his arm, he has routed the arrogant of heart.
He has pulled down princes from their thrones and raised high the lowly.
He has filled the starving with good things, sent the rich away empty.
He has come to the help of Israel his servant, mindful of his faithful love
-according to the promise he made to our ancestors -- of his mercy to Abraham and to his descendants for ever.
Mary stayed with her some three months and then went home.
Ordinary Time
1) Opening prayer
Father of everlasting goodness,
our origin and guide,
be close to us
and hear the prayers of all who praise you.
Forgive our sins and restore us to life.
Keep us safe in your love.
We ask this through our Lord Jesus Christ, your Son,
who lives and reigns with you and the Holy Spirit,
one God, for ever and ever. Amen.
2) Gospel Reading - Matthew 17,1-9
Jesus took with him Peter and James and his brother John and led them up a high mountain by themselves. There in their presence he was transfigured: his face shone like the sun and his clothes became as dazzling as light. And suddenly Moses and Elijah appeared to them; they were talking with him.
Then Peter spoke to Jesus. 'Lord,' he said, 'it is wonderful for us to be here; if you want me to, I will make three shelters here, one for you, one for Moses and one for Elijah.' He was still speaking when suddenly a bright cloud covered them with shadow, and suddenly from the cloud there came a voice which said, 'This is my Son, the Beloved; he enjoys my favour. Listen to him.'
When they heard this, the disciples fell on their faces, overcome with fear. But Jesus came up and touched them, saying, 'Stand up, do not be afraid.' And when they raised their eyes they saw no one but Jesus. As they came down from the mountain Jesus gave them this order, 'Tell no one about this vision until the Son of man has risen from the dead.'